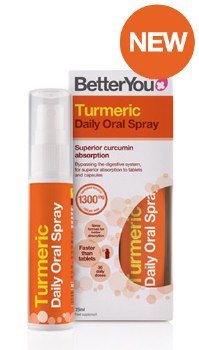 Turmeric Daily Oral Spray
Size: 25ml
€19.95
The first turmeric supplement in an oral spray form which is absorbed directly into the bloodstream, bypassing the digestive system for improved absorbtion. Providing 1,300mg equivalent turmeric root per dose (4 sprays).

Four sprays of the Turmeric oral spray contains 26mg of the three active curcuminoids - curcumin is a potent anti-inflammatory and has anti-oxidant properties along with many other health benefits.

Natural orange flavour.
Water, xylitol, curcumin extract, acacia gum, potassium sorbate, citric acid, orange oil, xanthan gum