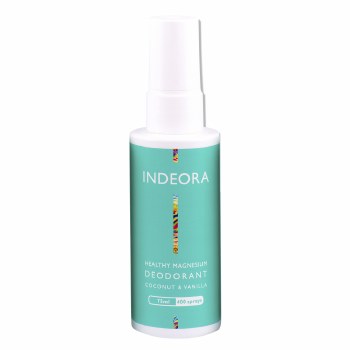 Coconut & Vanilla Deodorant
Size: 75ml
€19.95
Formulated & made in Ireland by a Medical Doctor, Indeora healthy magnesium deodorant can be used the safe in the knowledge that it does not contain any form of aluminium or other aerosol gases traditionally found in antiperspirant sprays.
Innovative Magnesium Formula Naturally Neutralises Body Odour for up to 24 hours
Free From all forms of Aluminium, Aerosol gases, Baking Soda, Sulfates & Synthetic Fragrances.
Each bottle lasts up to 3 months.
Fragranced with Natural Coconut & Vanilla Oils 
Dries Clear on Skin & does not clog pores
400 sprays in every bottle
Will Not Leave Stains on Clothing
Cruelty Free
Vegan Friendly
Aqua, Magnesium Chloride, Glycerin, Chamomilla Recutita Flower Extract, Aloe Barbadensis Leaf Juice Powder, Potassium Sorbate, Sodium Benzoate, Phenoxyethanol, Parfum (Natural), Caprylyl Glycol, Citric Acid, Benzyl Alcohol, Coumarin.
Customer Reviews
Average rating:
---
This works!, 6th Feb 2020
Reviewer: Marion
I've had mixed results with natural deodorants over the years...but was willing to give this new Irish-made one a go! I found ones containing baking soda worked well, but left my underarms red :(
This one uses Magnesium instead. I used just 2 sprays on each underarm in the morning & I still smelled the lovely delicate coconut fragrance at night...Fantastic! This really works as hard as I do & no more red underarms!!