Cleansing Balm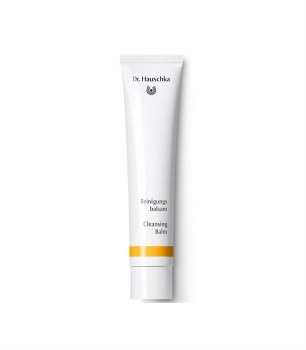 Dr Hauschka
Cleansing Balm
€22.95 / 75ml
With a gel to milk formulation, this cleansing balm is lightweight, non foaming, easy wash off.

Chalk from the German island, Rügen - due to being highly porous its enormous surface binds dirt particles and sebum.

Precious oils of apricot kernel, sunflower and olive support the cleansing of oil/fat containing dirt and maintain the natural barrier of the skin while cleansing leaving the skin soft and cared for.

Plant extracts from birch, calendula and anthyllis soothe, protect and calm the skin.

Suitable for all skin types.
Helianthus Annuus (Sunflower) Seed OilGlycerinCalcium CarbonateOlea Europoea Fruit OilAnthyllis Vulneraria (Woundwort) ExtractBetula Alba Bark/leaf ExtractPrunus Armeniaca (Apricot) Kernel OilCalendula OffIcinalis (Calendula) Flower ExtractArachis Hypogaea (Peanut) OilSucrose StearateFragrance (Parfum) [1]Linalool [1]Limonene [1]Geraniol [1]Citronellol [1]Triticum Vulgare (Wheat) Bran ExtractSucrose LaurateAqua (Water)Alcohol
Customer Reviews
This product has not yet been reviewed.