Fathers day grilled peaches & honey cream
16/06/2017 at 12:05 pm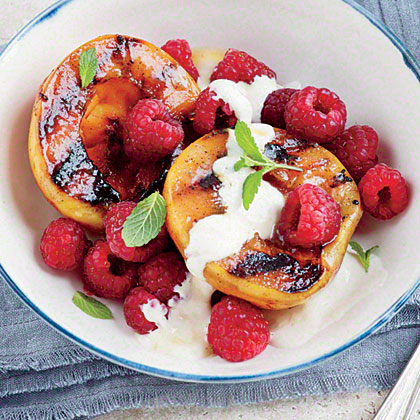 Grilled Peaches & Honey Cream
Ingredients
· 2 tablespoons unsalted butter, melted
· 2 tablespoons honey, divided
· 1/4 teaspoon ground cardamom
· Dash of salt
· 4 medium peaches, pitted and halved
· Cooking spray or oil
· 250mls plain fat-free Greek yogurt
· 1/4 teaspoon vanilla extract
How to Make It
Combine melted butter, 1 tablespoon honey, cardamom, and salt in a medium bowl. Add peaches, and toss to coat. Let stand for 5 minutes.
Heat a grill pan over medium heat. Coat pan with a little oil. Arrange peaches on grill pan; grill 2 minutes on each side or until grill marks appear.
Combine yogurt, remaining 1 tablespoon honey, and vanilla in a small bowl; stir with a whisk. Serve with peaches and raspberries.